Los Gigantes and Puerto Santiago are Tenerife's hidden gems. It's famous for the breathtaking views with giant cliffs, epic sunsets, a warm climate, fantastic beaches and hiking trails.
Los Gigantes attracts visitors who prefer a quiet and peaceful holiday. It has hotels and clubs, but they are much smaller than the party scene of Las Américas, Los Cristianos and Costa Adeje.
There are no huge water parks or shopping malls. This makes Los Gigantes an ideal destination for visitors looking for a relaxing holiday experience.
My guide is here to help you discover the best things to do in Los Gigantes. This guide reveals the hidden treasures of this coast of Tenerife.
Top things to do in Los Gigantes recommended by locals:
The viewpoint of Archipenque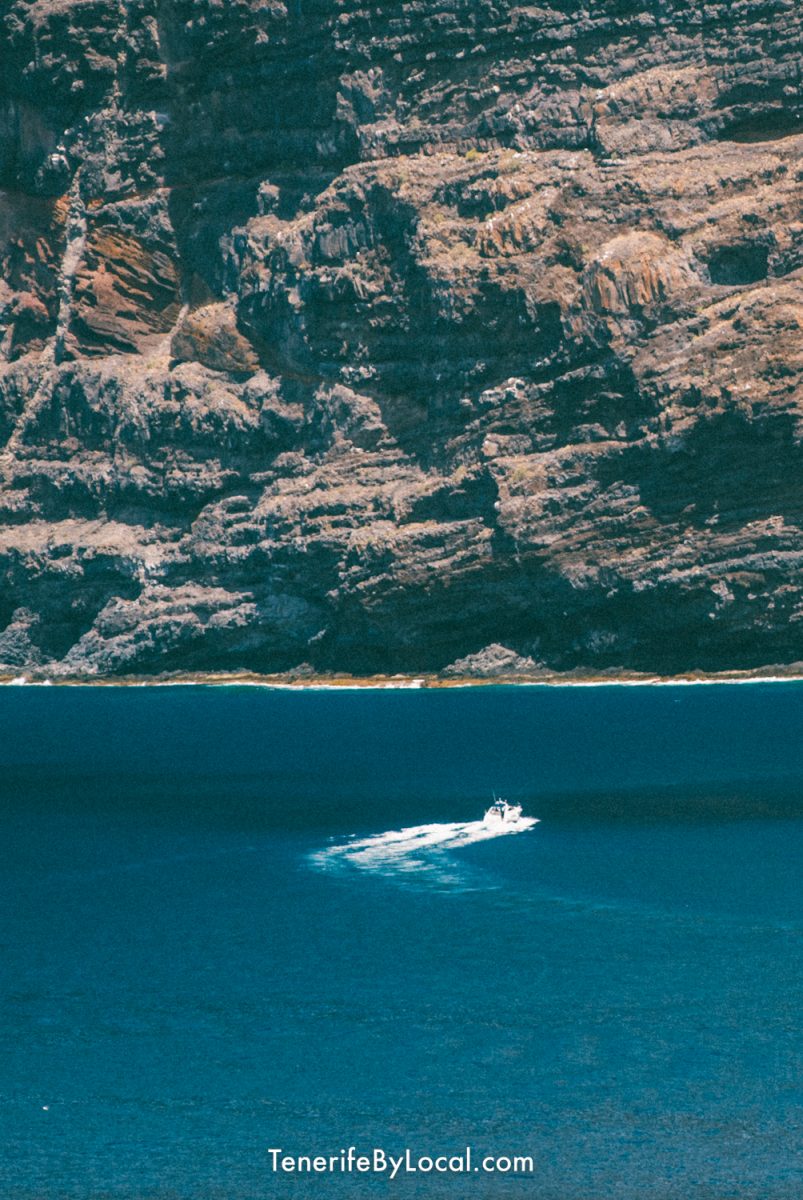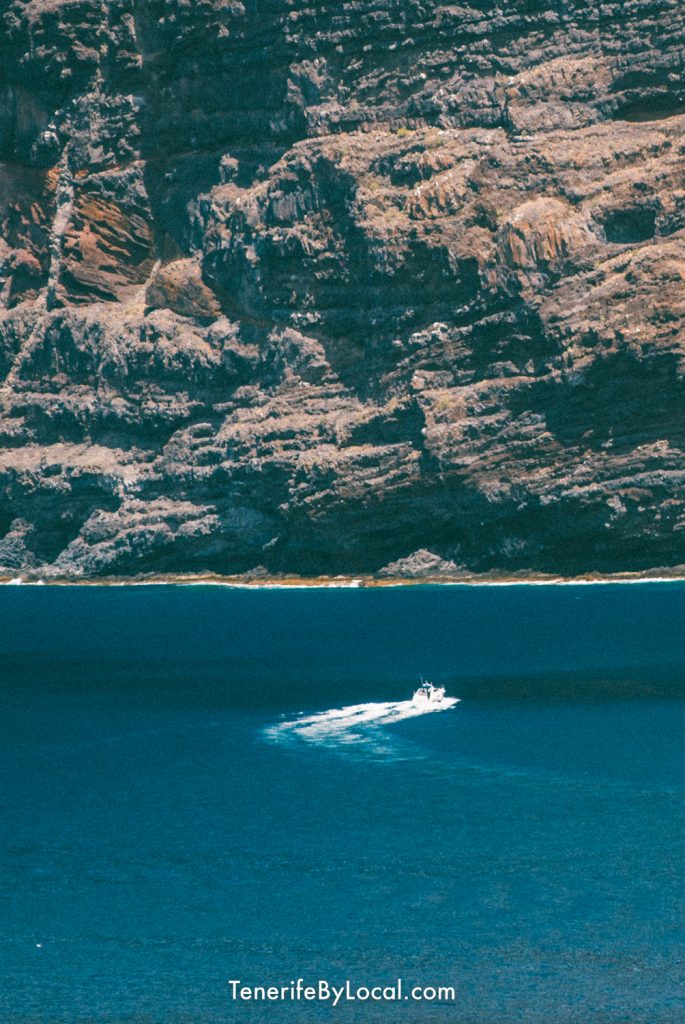 The best viewpoint in Los Gigantes: Mirador Archipenque.
Here is an incredible view of the stunning Los Gigantes cliffs. You may have heard of this view, but believe me, it's one of the best in Tenerife.
From the Archipenque lookout you can see a spectacular panoramic view of the cliffs of Los Gigantes, the town, marina and harbor, the Teno lighthouse and the island of La Gomera.
Where to find it?
It is located right next to the main road that runs between Tamaimo and Puerto de Santiago. There is no bus stop. However, there are plenty of parking spaces.
Visit the warmest beach of Tenerife – Los Guios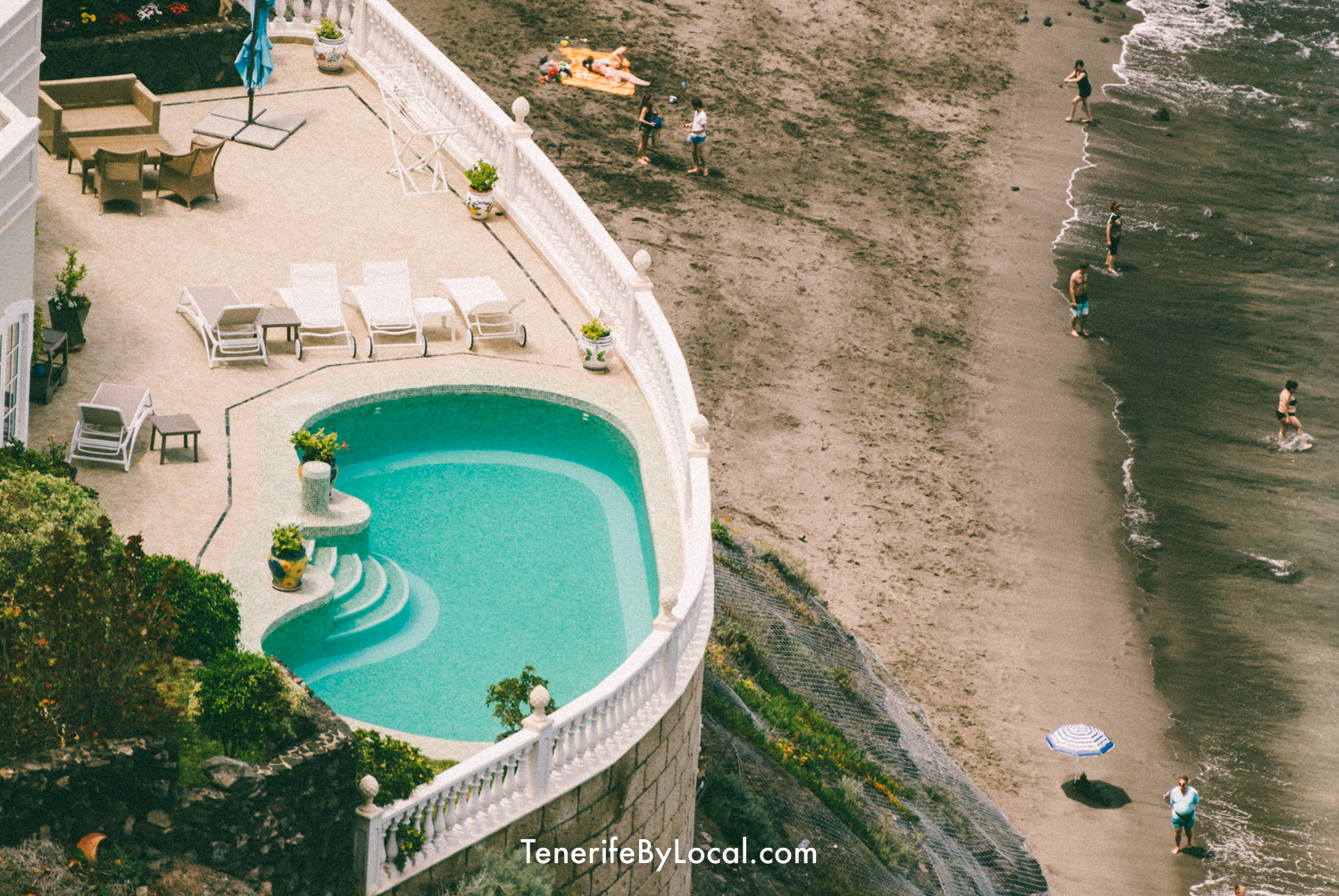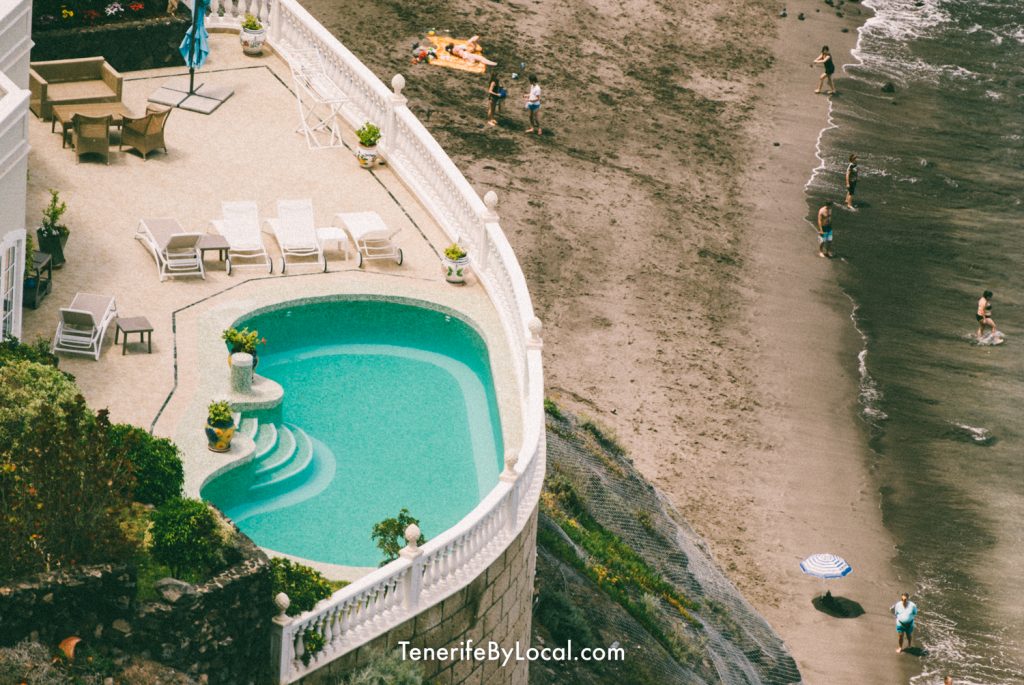 Los Guios is a peaceful and clean beach at Los Gigantes which is located next to the marina. Los Guios is a sandy beach with a fabulous view of the colossal cliffs and the warm water.
In the mornings, there's little sun because of the height of the rocks, but after 12 or 13 o'clock, the sun goes out, making this beach even more pretty.
Don't waste time looking for parking on nearby streets. The paid car park at the harbour is your best bet. Bear in mind that this car park can be packed on weekends in August and on New Year's Eve.
Los Guios Beach Highlights:
☀️ Sandy beach with fabulous views of cliffs Los Gigantes
🏖️ Calm, clean water
🅿️ Paid parking at the harbour is the best option
🚶 Access on foot to fully enjoy the cove of black sand
👀 Panoramic views of the cliffs
Playa Los Guios – definitely the best beach in Los Gigantes!
Whales and dolphins
It is a great experience to visit Los Gigantes by boat. Why? For the fantastic views and an almost 100% chance of seeing a wide variety of whales and dolphins.
You'll have the chance to see pilot whales, bottlenose dolphins, killer whales, sperm whales and fin whales. It's really an unforgettable memory of the Canary paradise.
What time of year is best for whale watching in Tenerife?
Winter, between October and February, is the best time to go whale watching in Tenerife. Why? Because there are fewer tourists and you can be almost alone with the dolphins.
Spring is also a great time to see large baleen whales and oceanic dolphins in Tenerife near Los Gigantes.
Playa La Arena – The best beach of Puerto Santiago
🏖️ Playa de la Arena is located in Puerto de Santiago and is known as one of the most attractive beaches in Tenerife.
With its palm trees and black sand, Playa de la Arena is a great place to spend the day.
The beach has been awarded the Blue Flag since the 1980s because of its high standards of cleanliness and safety. There's plenty of restaurants and bars nearby where you can grab a bite to eat or a drink. It can get crowded during high season and weekends though.
👨‍👩‍👧‍👦 Playa de la Arena is also family friendly, as are Los Guios and Chica beaches in Puerto Santiago.
The best sunset in Tenerife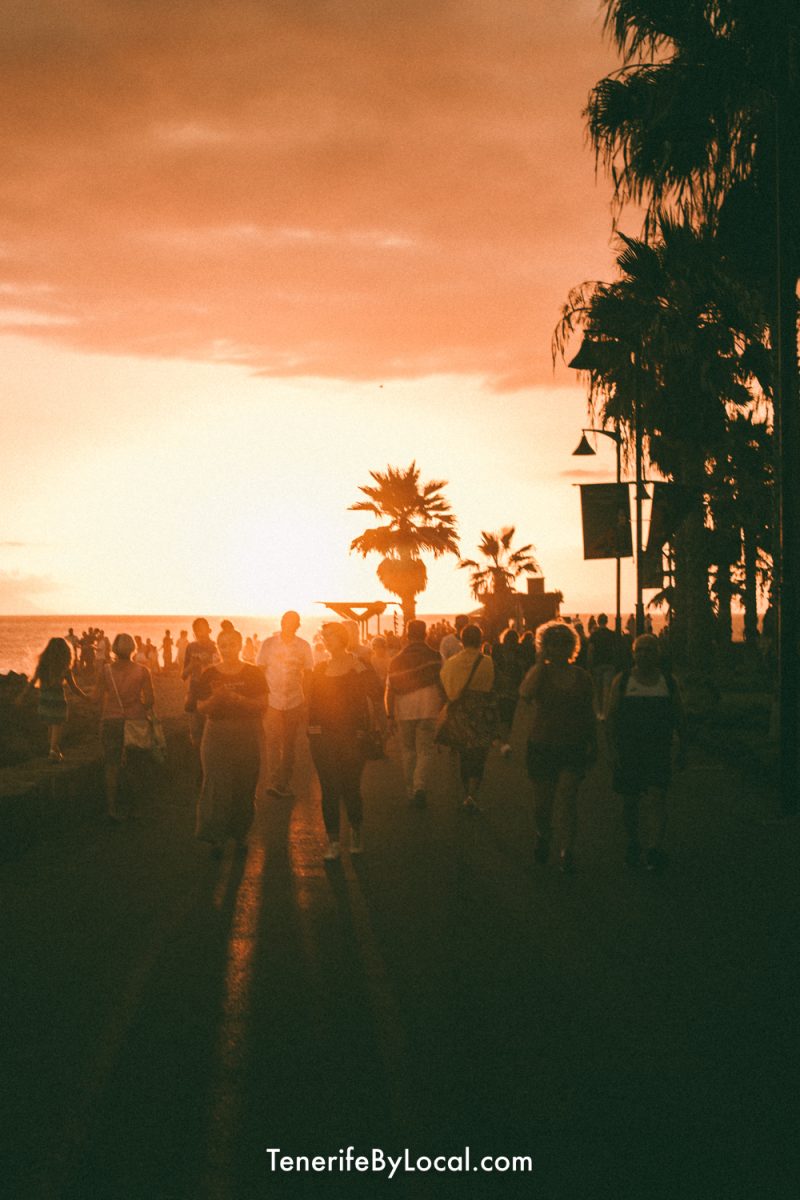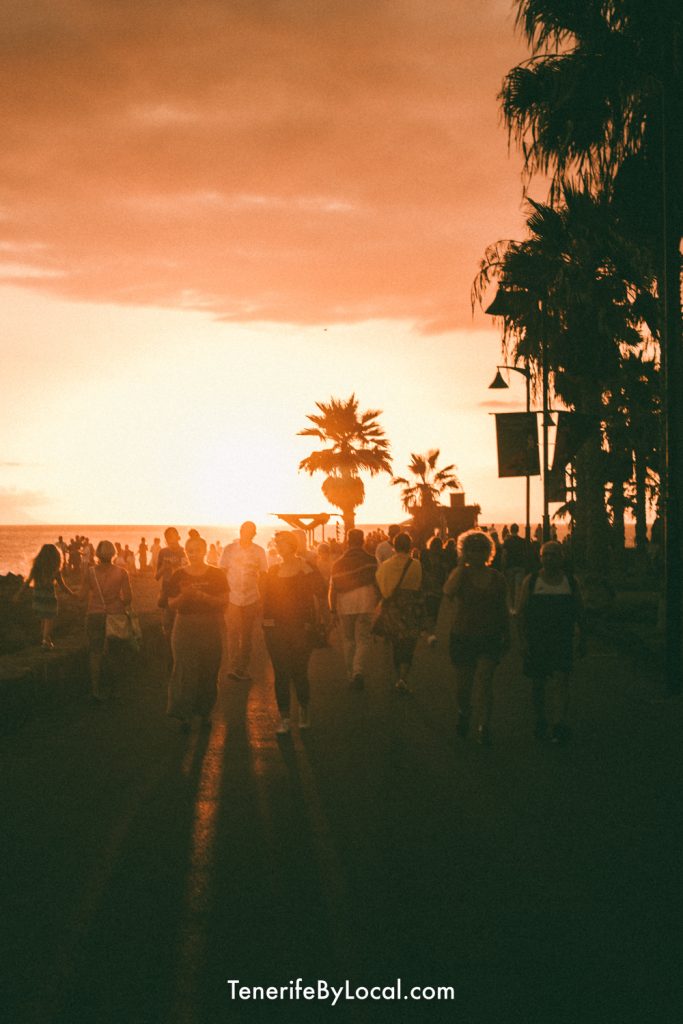 📷 The Mirador Archipenque in Los Gigantes is one of the best places in Tenerife to watch the sunset. The cliffs, which are 600 meters high, are a great place to take pictures during the golden hour.
🌅 Mirador Tancon in Puerto Santiago is another great place to watch the sunset. It offers a direct view of the cliffs. But it's close to the sea.
🍹 Choose the bar at Mirador Archipenque if you're looking for a place to enjoy a drink while watching the sunset.
Playa Chica – The hidden beach for locals in Puerto Santiago
🏖️ Playa Chica is a small black sand beach located in Puerto de Santiago, near Los Gigantes.
👨‍👩‍👧‍👦 Despite its small size, Playa Chica is very popular with the locals. It's a great place to relax and swim, especially with children. The water is shallow and sometimes warmer than other places.
🍴 There are local restaurants and a kiosk serving Canarian bocadillos. If you don't bring your own lunch, you can buy it here.
🚶 Playa Chica is the starting point of the Puerto Santiago promenade. From here you can have a stroll to the town of Alcala and even to the city of San Juan.
Nearby you will find the Fishing Museum, natural swimming pools, bars, restaurants and hotels.
🎉 On the 23rd of June there's the local fiesta with bonfires and fireworks for San Juan. I would also recommend Puerto de Santiago Romeria. It's the maritime procession of the Virgen del Carmen that takes place every year in July.
Active Sports in Los Gigantes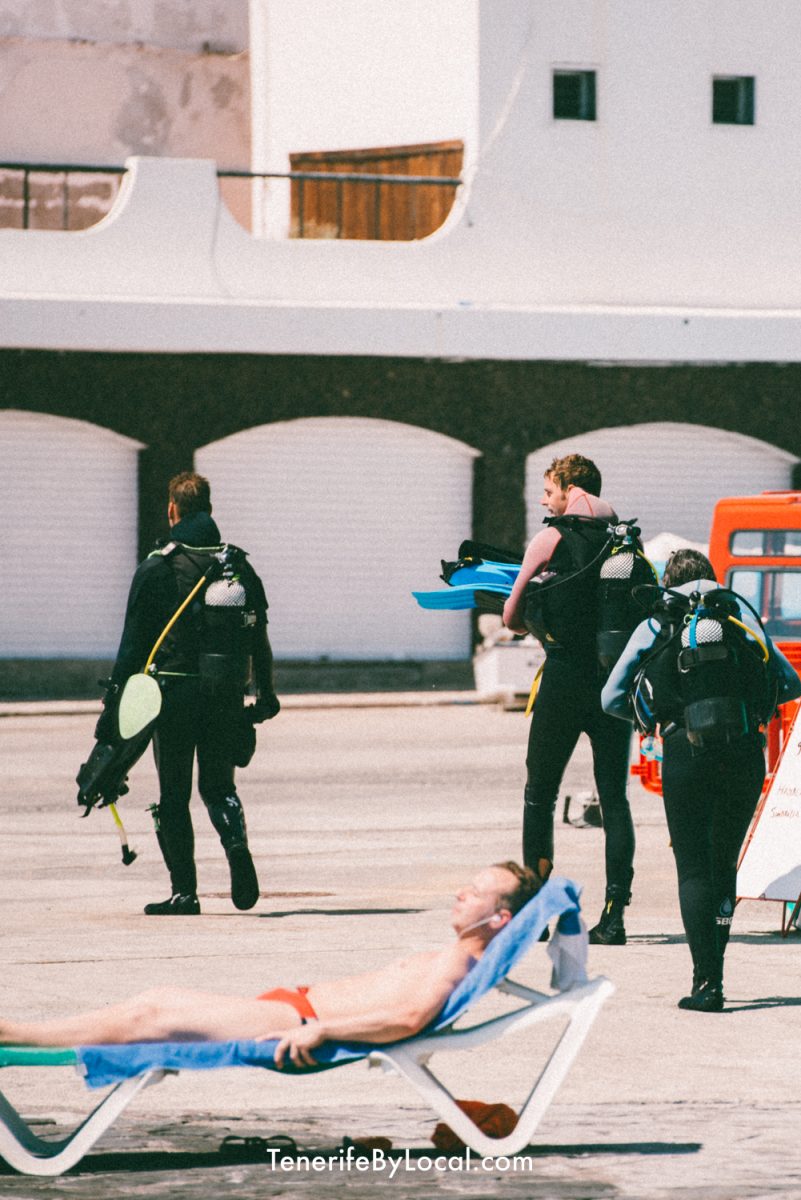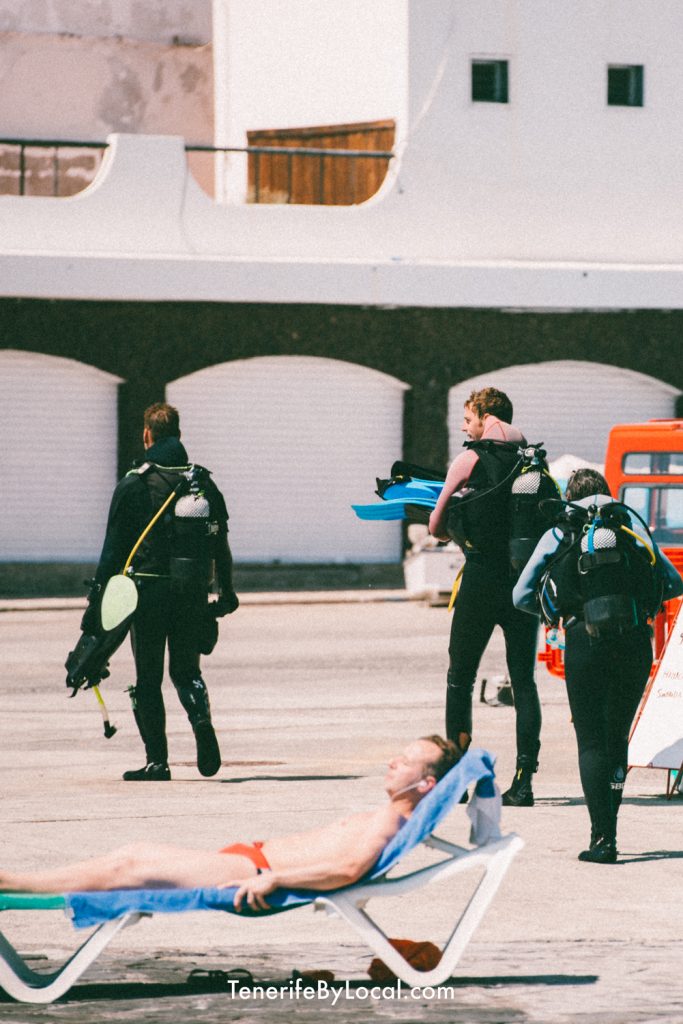 While holidays in Tenerife are often seen as a time to relax, nothing beats a little athletic activity to truly appreciate the charm of Los Gigantes.
Kayaking and snorkeling
The cliffs of Los Gigantes provide the perfect backdrop for a variety of activities. You should try kayaking, jet skiing or paddle surfing. Cool off in the calm waters along the rugged cliffs. There's a good chance you'll see dolphins as you paddle along. Snorkeling is also an option!
Diving and Scuba Diving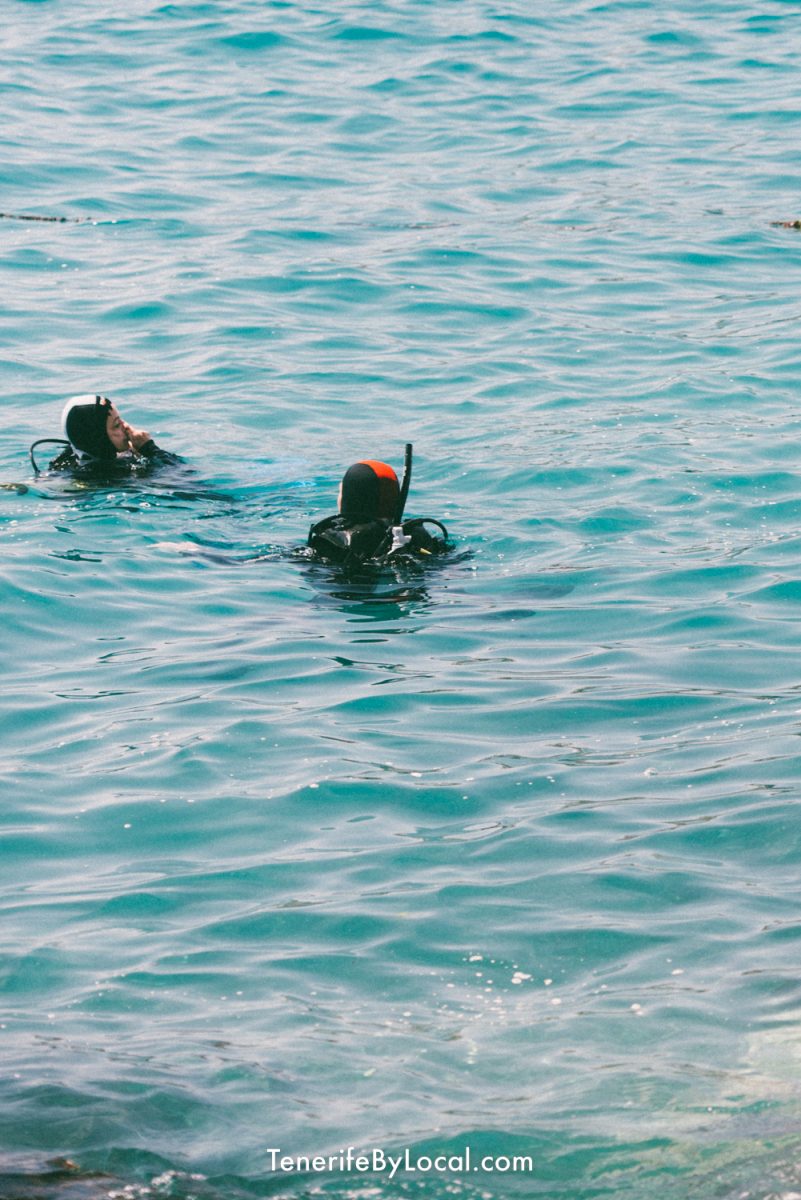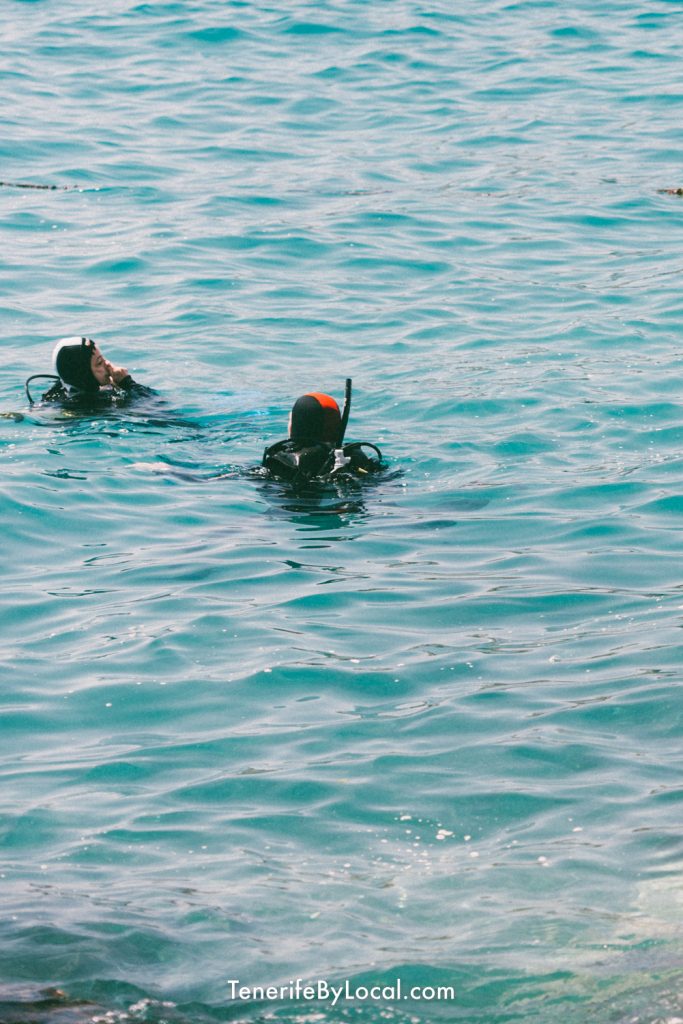 Don't miss exploring the seabed at Los Gigantes. Lack of diving experience is not a problem to get close to the marine life of the area. There is also an introductory dive for those wishing to try scuba diving for the first time.
The best natural pool in southern Tenerife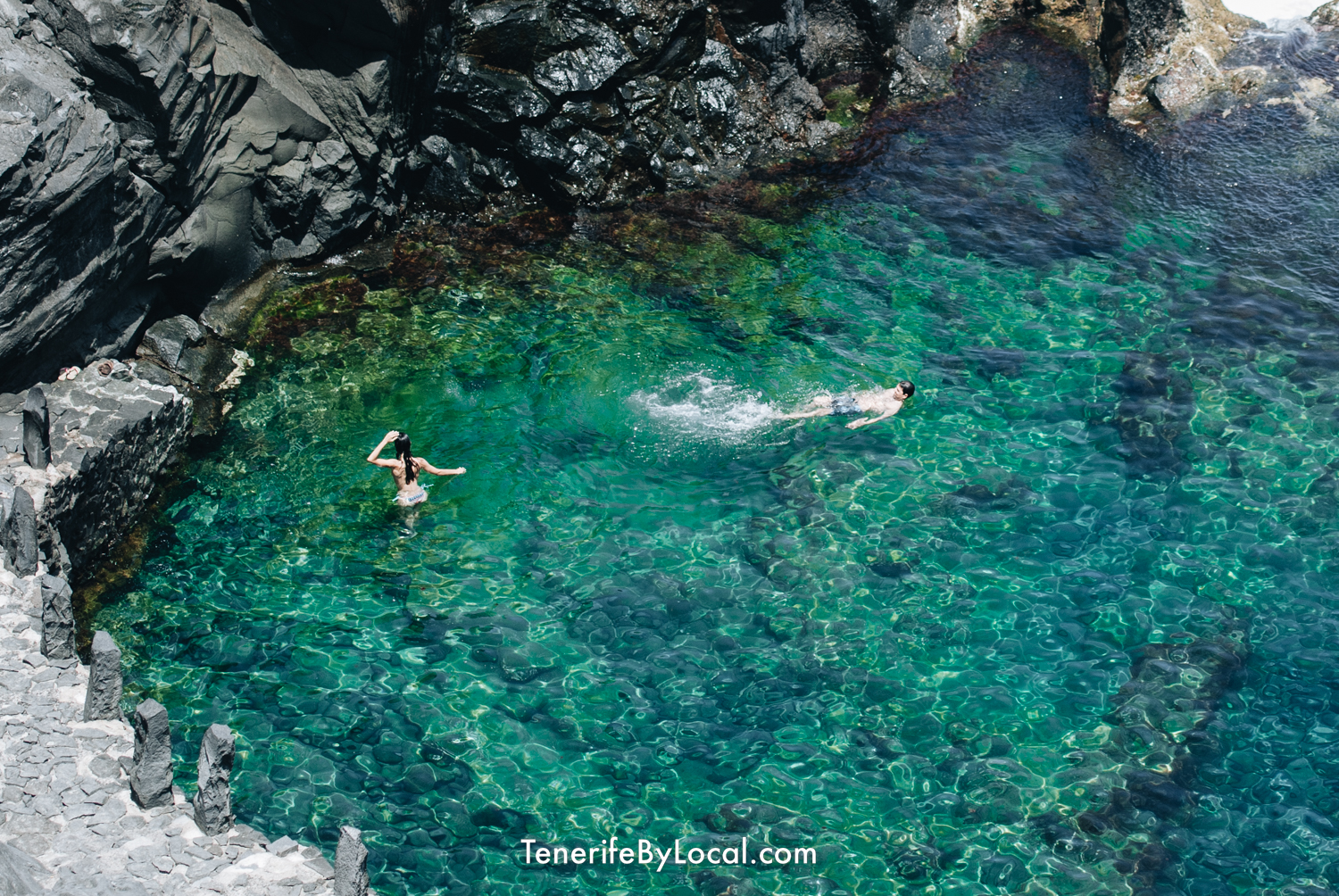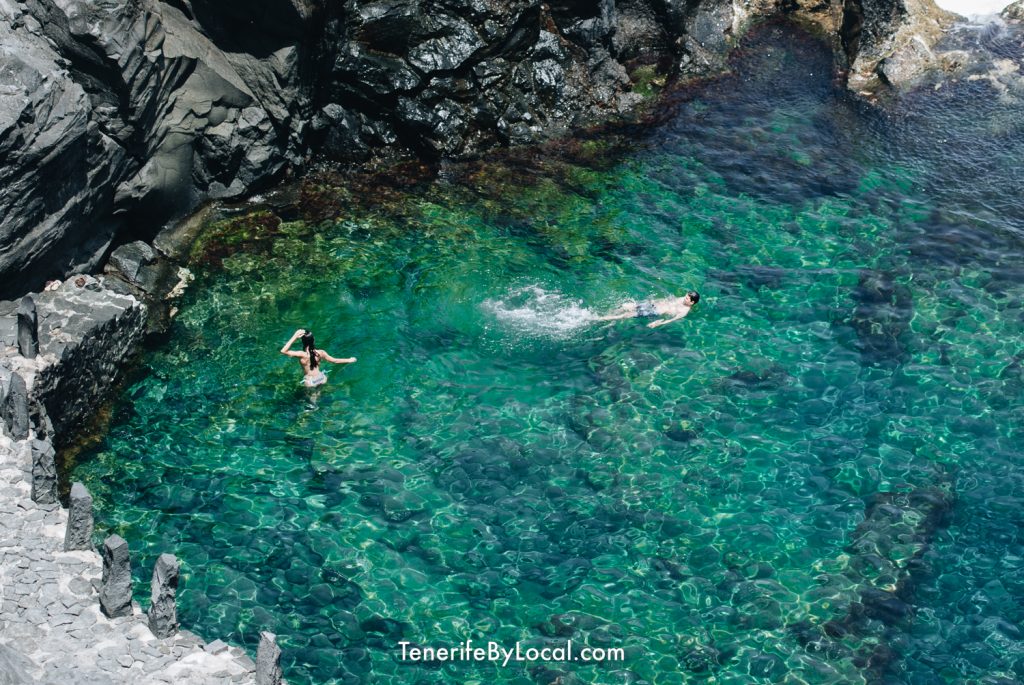 The area between the cliffs of Los Gigantes and Puerto Santiago has a real hidden gem – a natural swimming pool in the urbanization of Isla Cangrejo.
🌊 Charco de Isla Cangrejo is a natural ocean swimming pool. This pool is known as the Piscina Natural Acantilado De Los Gigantes and is considered the best in the south of Tenerife.
Swimming in Charco Cangrejo can be one of the highlights of your holiday. But be careful! And make sure you check the conditions of the ocean very carefully before you take a dip.
Do not swim in the pool when there are big waves. Unfortunately, there have been tragedies. People have drowned in huge waves.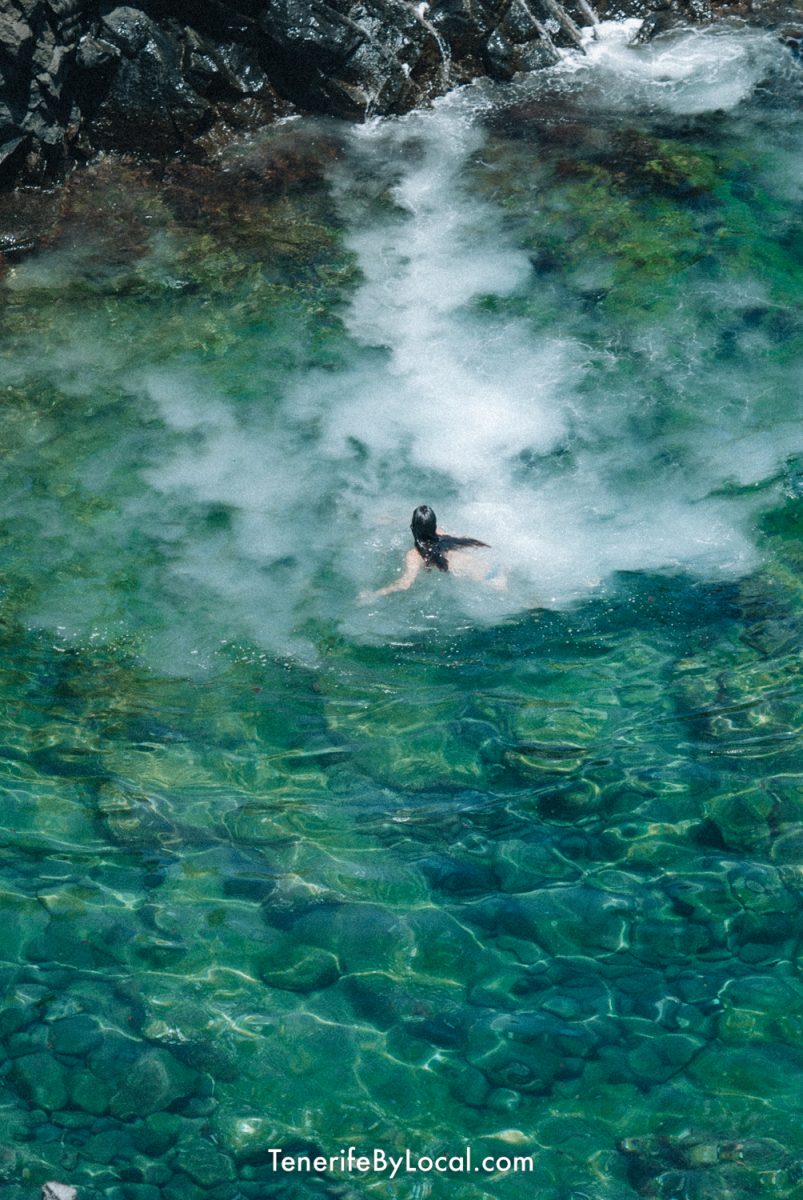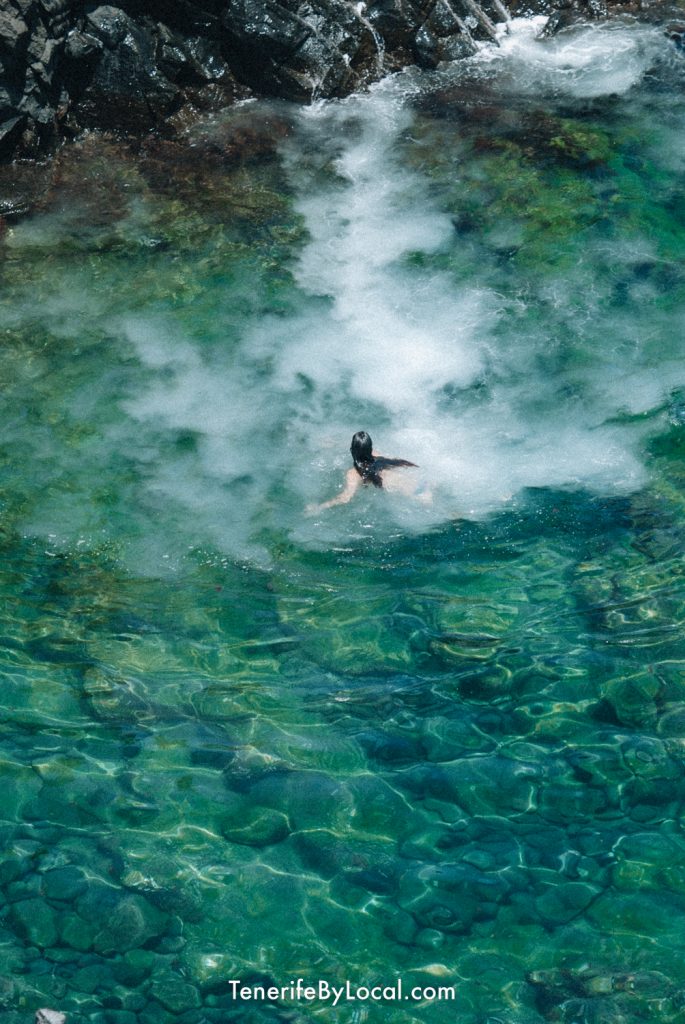 Don't forget to wear beach shoes – the bottom of the pool is slippery and the rocks are uncomfortable for bare feet. Remember: SAFETY FIRST!
Even if you don't feel like swimming, you can still enjoy the stunning views from the Piscina Natural Acantilado De Los Gigantes. If you do decide to go swimming, be careful and keep an eye on the weather and ocean conditions.
Spend some time in the charming harbour area.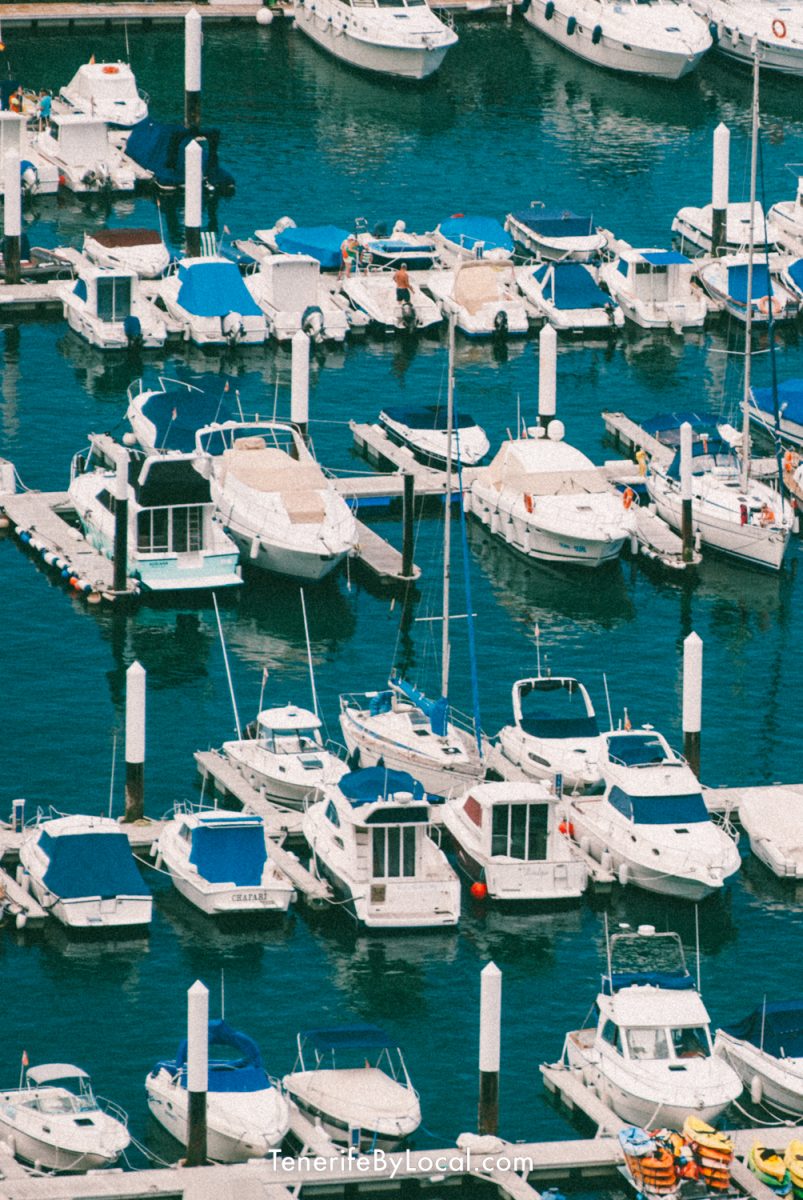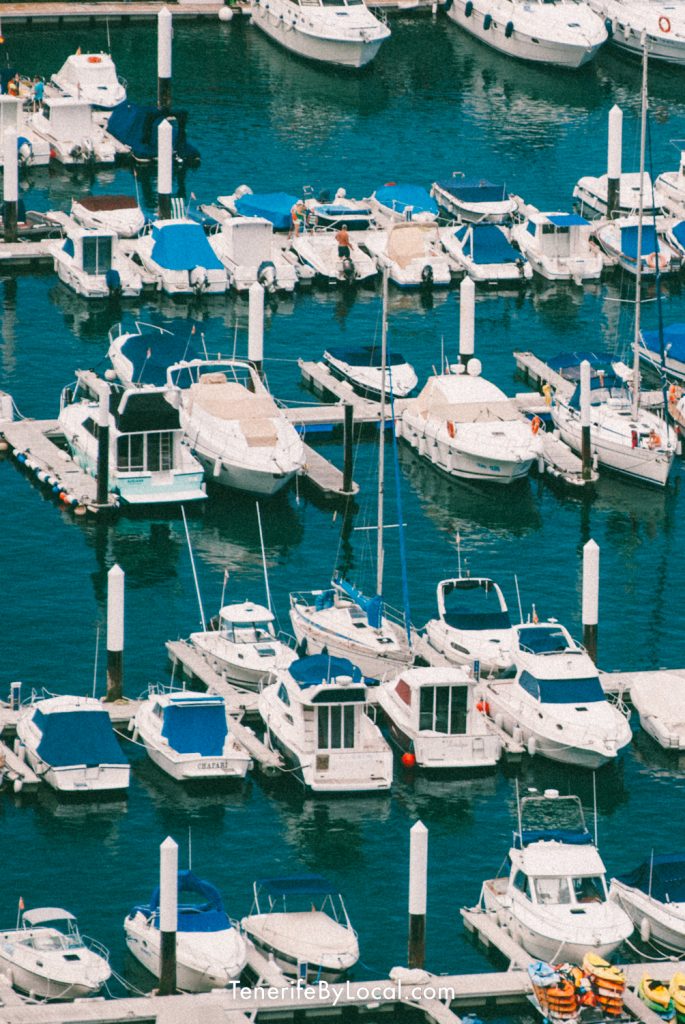 🍴 Head to Marina Los Gigantes for a delicious meal with stunning views. Enjoy your lunch while admiring the beautiful boats and yachts.
Not in the mood for lunch? The marina has plenty of cafes and restaurants where you can have a drink or some ice cream. Then take a picture of the towering cliffs surrounding the harbour – it's a truly inspiring sight.
Local lifehack! In the right-hand corner of the harbor you might come across a stingray! But please don't frighten it.
Don't like cold ocean? Here's a way to find warm water.
The pools at Oasis Los Gigantes are heated. You can enjoy them during the cooler winter months when the ocean water is too cold for swimming. There are beautiful views of the ocean from here.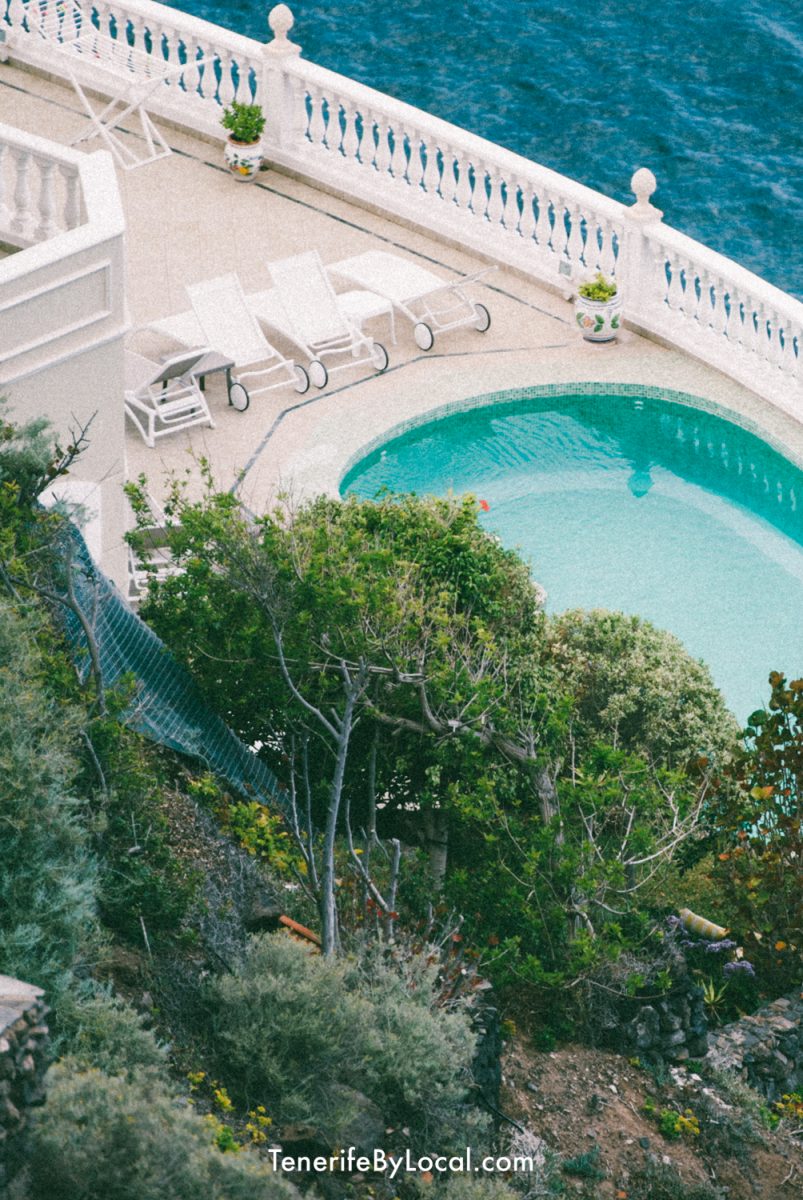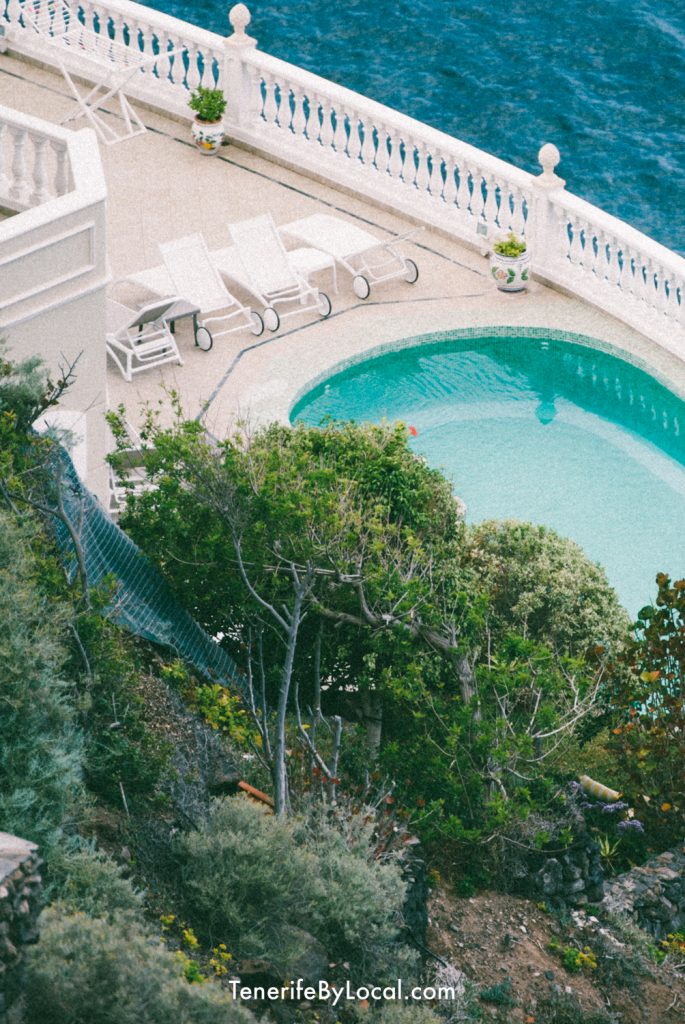 Oasis Los Gigantes is the only public pool in Los Gigantes since the closure of Piscina El Laguillo.
Breathtaking sea views on a picturesque walk
One of the best things to do in Los Gigantes – walk along the sea, passing through Puerto de Santiago, to Alcala and San Juan. This walk can be done in several parts.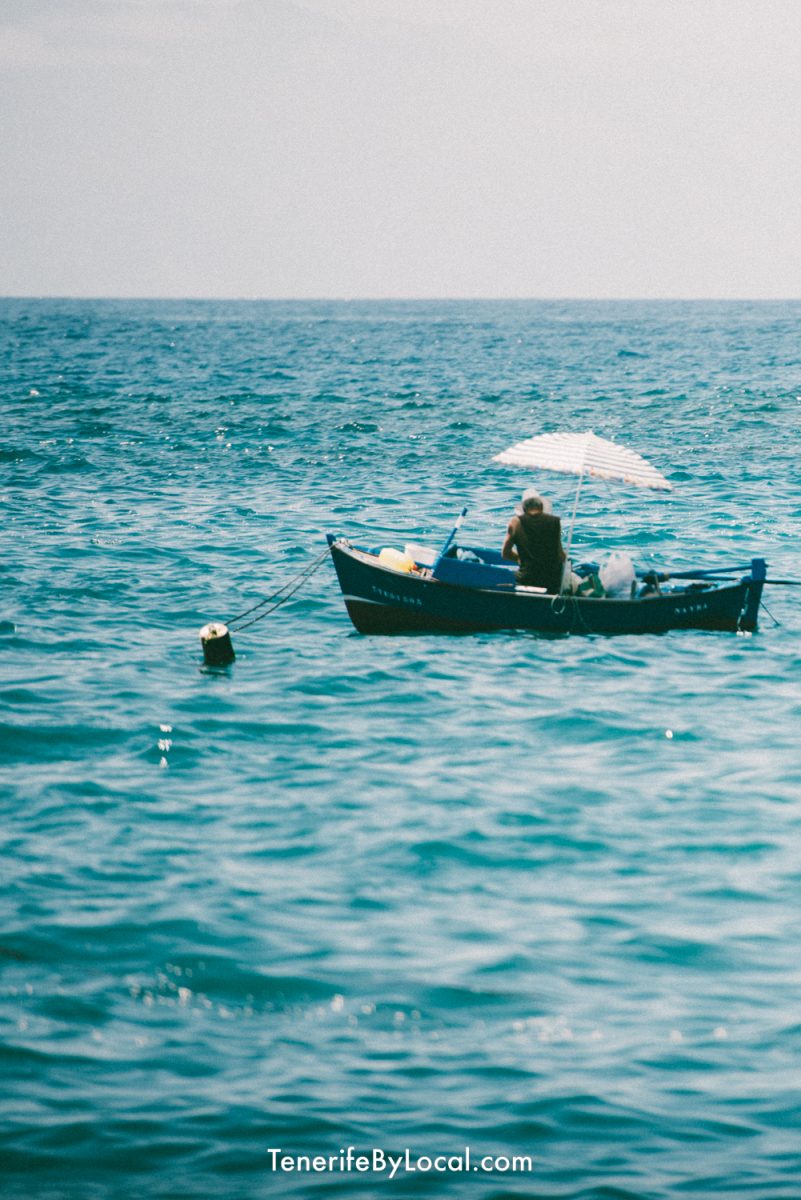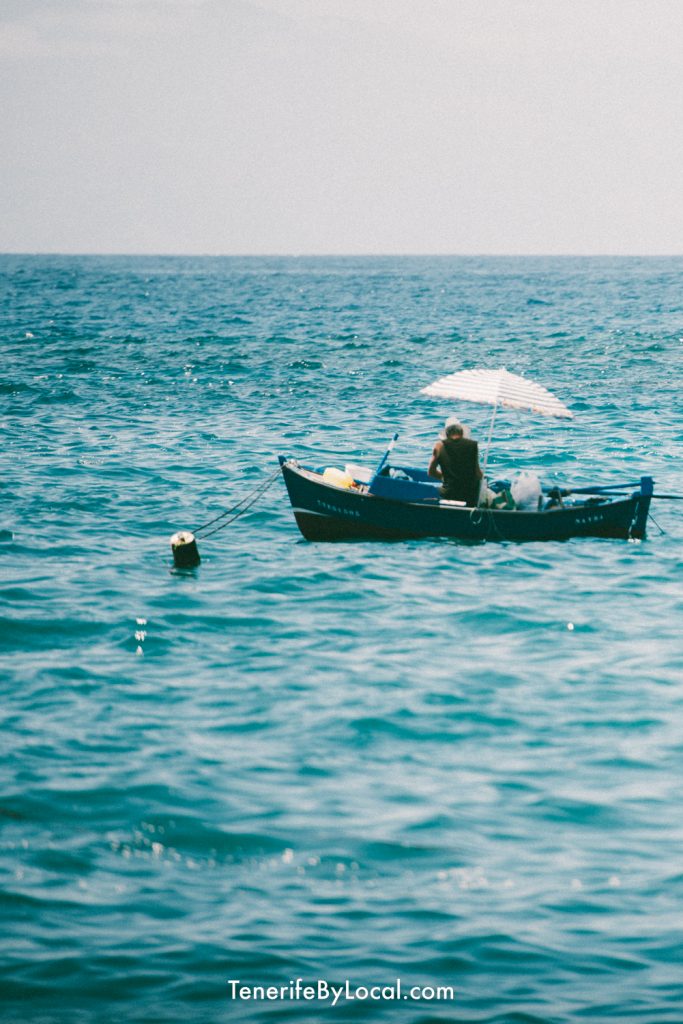 🏖️ The first part is from Los Gigantes to the Playa Chica in Puerto de Santiago. It is a 20 minute downhill walk.
I recommend you continue to the Playa de la Arena. There are many restaurants and ice-cream shop – heladeria. Playa de la Arena is a beautiful black sand beach. It's an ideal place for a sunset swim or lunch under the palm trees.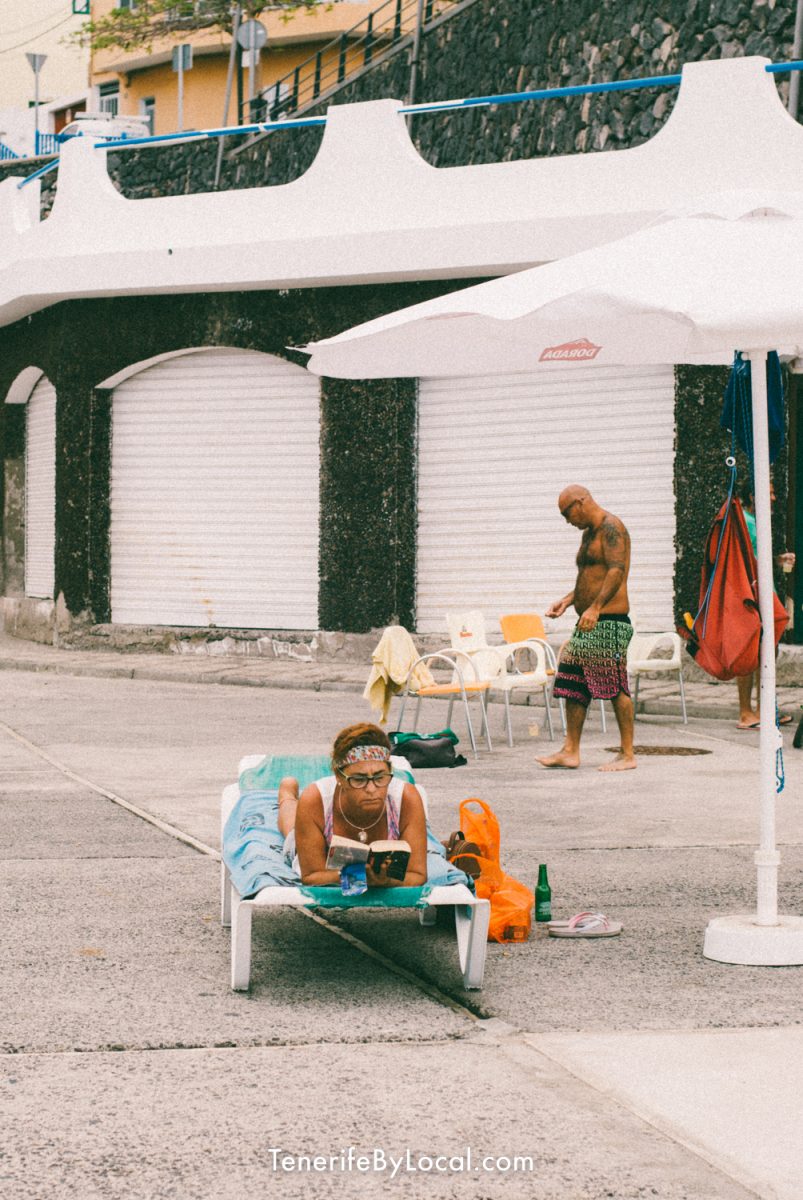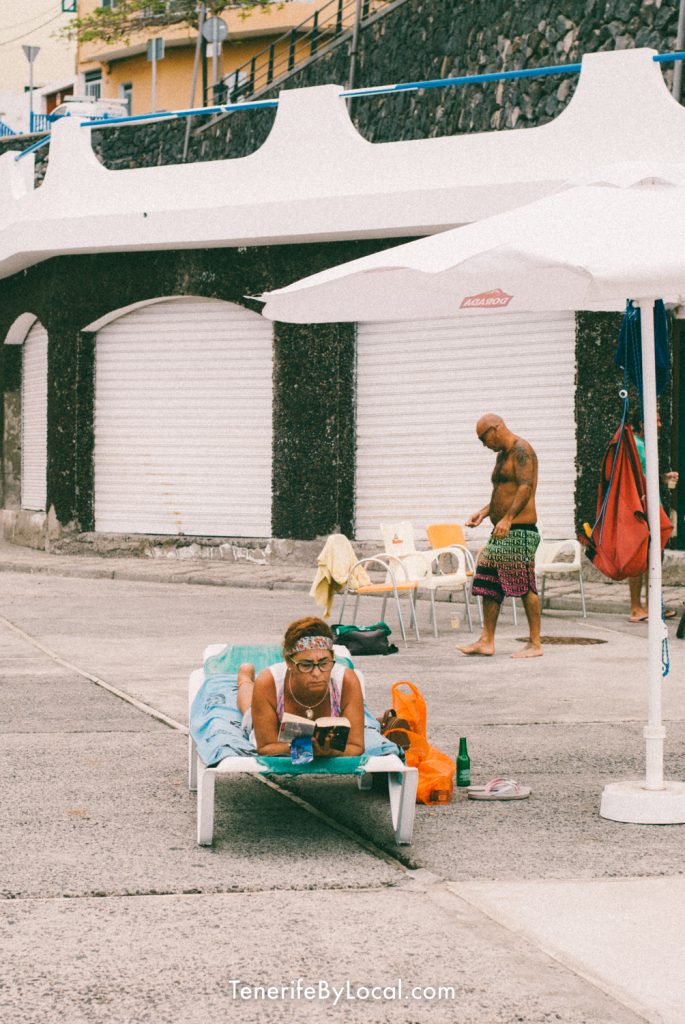 🥾 For walkers, I recommend continuing on to the small Canary town of Alcala. It's simply charming. Little Italy in Tenerife is what I called it. One day I will write a story about this place and link it here.
For more beautiful blue shores and lagoons, head over to the town of San Juan and its beach. The best day to visit Playa San Juan is Wednesday, as the local market is open between 8am and 1pm.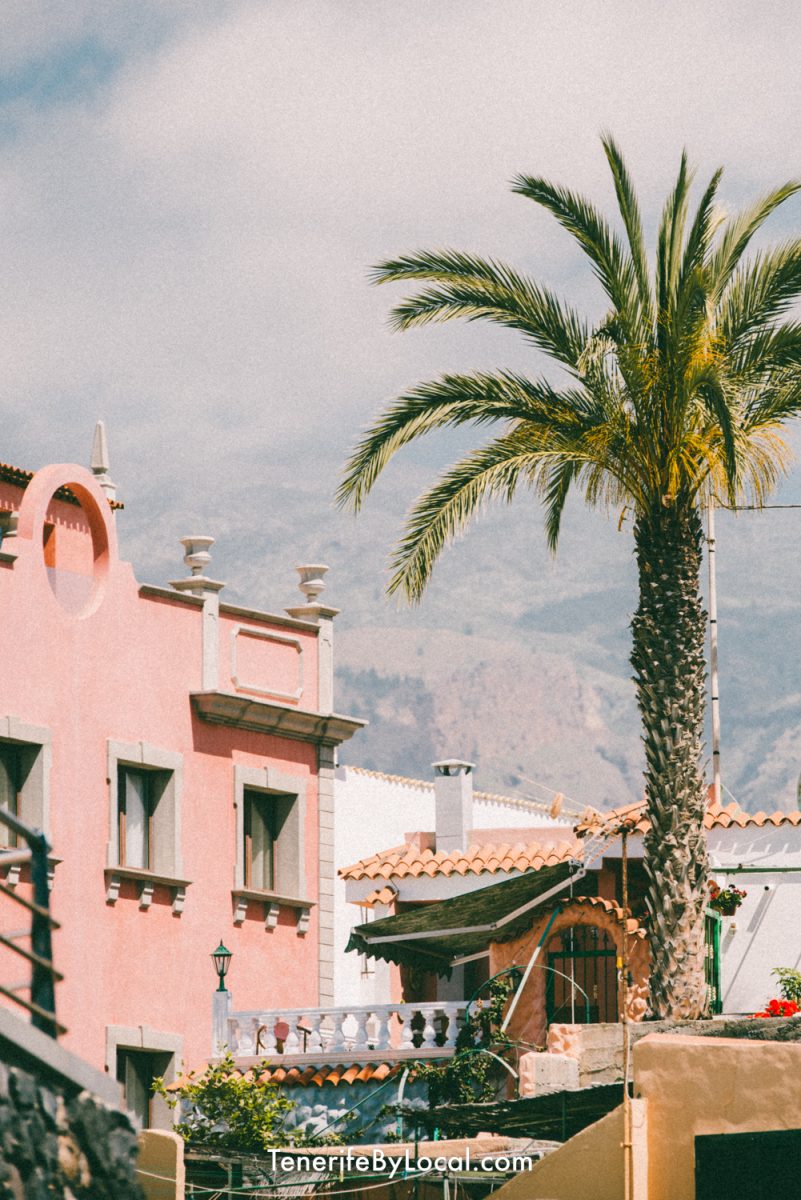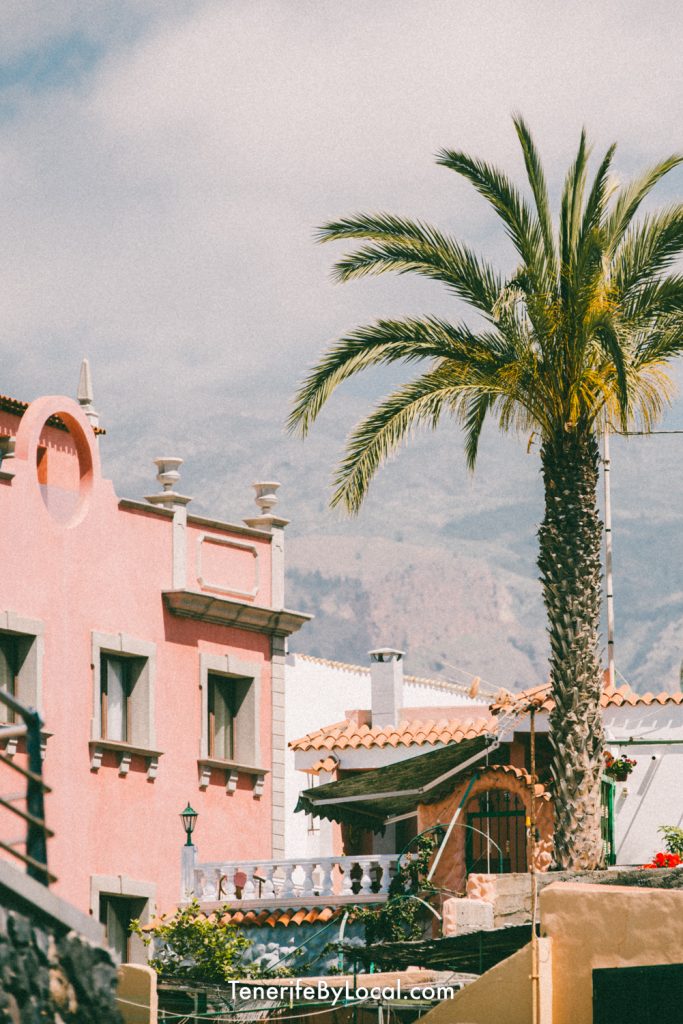 There are many places with good food and stunning sea views on the road between Los Gigantes and Alcala.
You can return to Los Gigantes by bus (the locals call it guagua) routes 477 and 473.
You can also go from Puerto Santiago or Los Gigantes to Alcala or San Juan to spend the day on their beaches.
What is the best place to stay in Los Gigantes?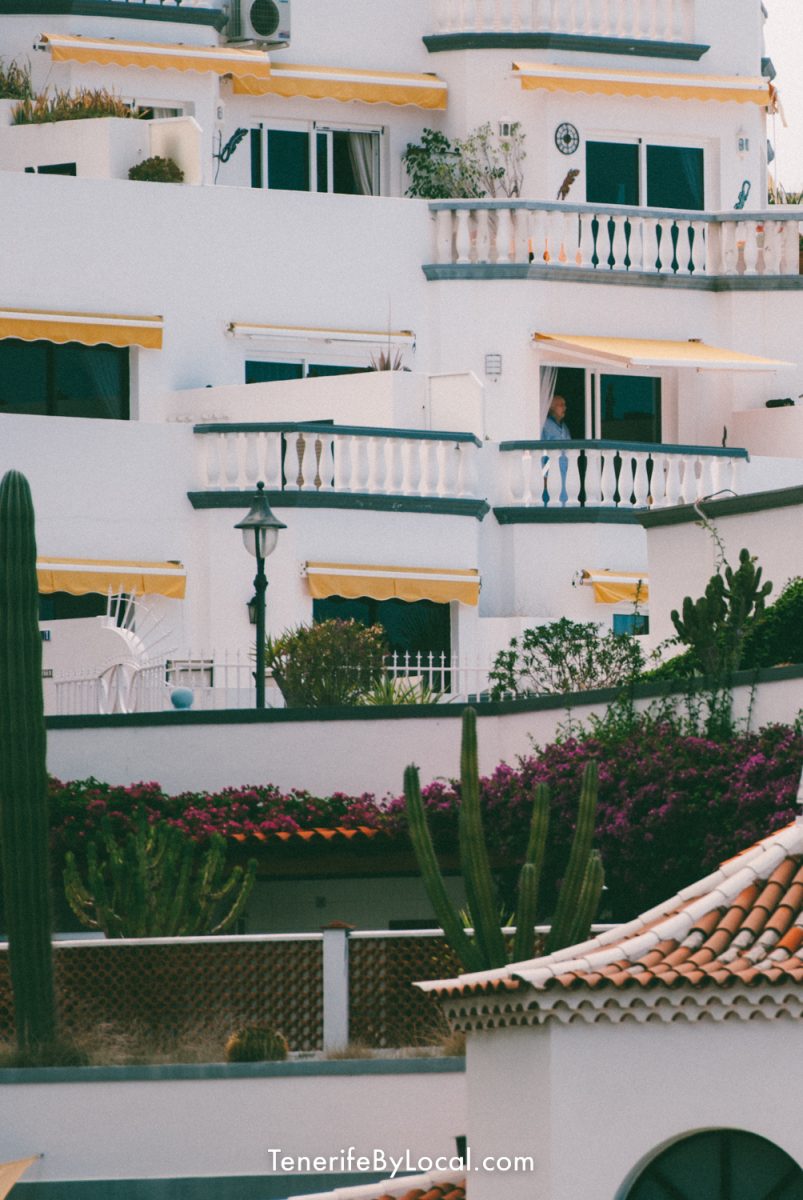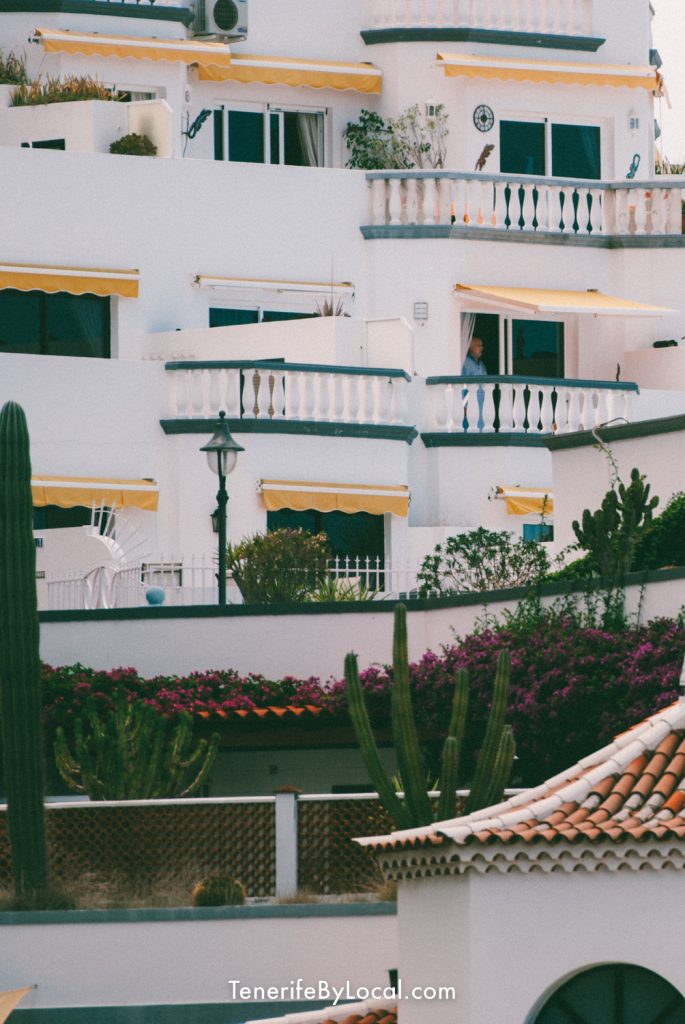 I would recommend the beautiful Barcelo Hotel with stunning views of the cliffs and on peak of Teide. There are 3 swimming pools (one heated) and a spa complex.
For families with children I recommend the good 4 star hotel Landmar Costa los Gigantes. It used to be called Be Live Family Costa Los Gigantes. Another place for families with children – Apartamentos Terrazas Los Gigantes ***.
Wonderful place for family without children is Melia Hacienda del Conde – Adults Only *****. Another good hotel is Ona Las Rosas in Puerto de Santiago.
Sadly, Hotel Tui Blue Los Gigantes closed a few years ago.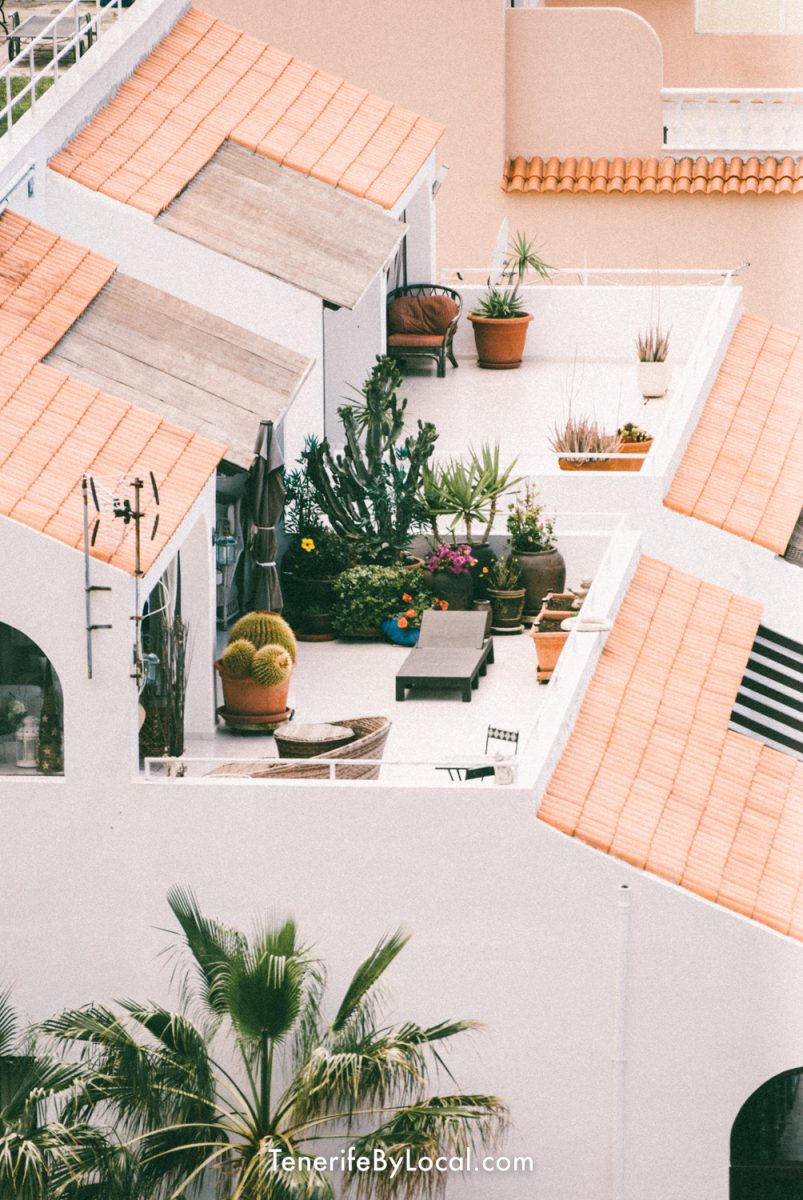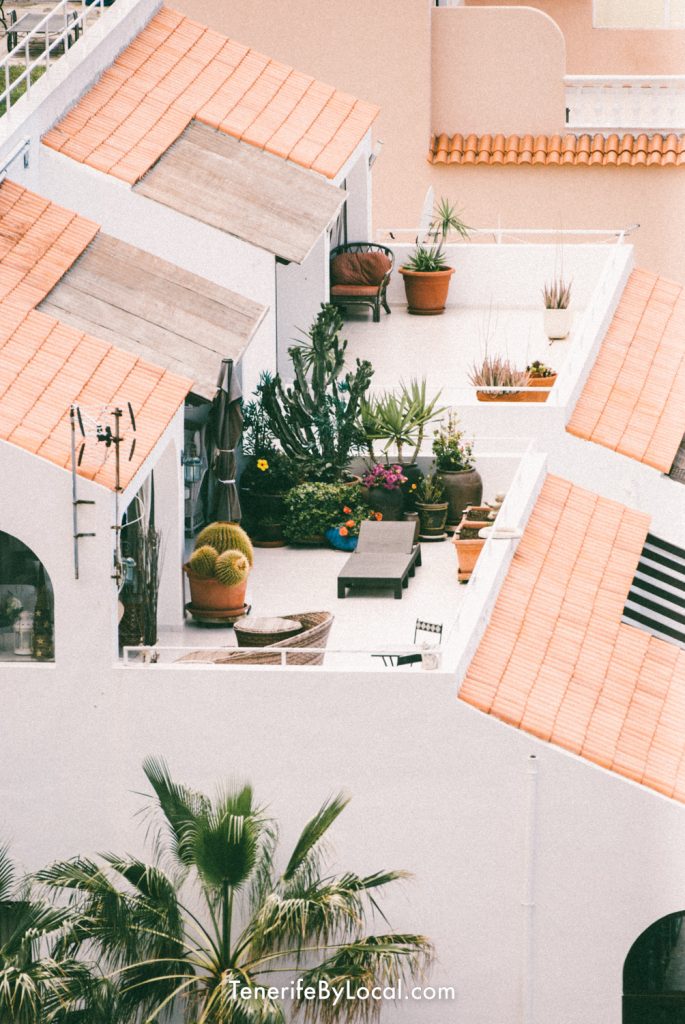 If you are on a budget check out Teneryfa Los Gigantes. These apartments have great views. You can enjoy sunset dinners or sunrise breakfasts from your own terrace or balcony.
How do you get around the island of Tenerife if you are staying in Los Gigantes or Puerto Santiago?
🚗 If you want maximum freedom and flexibility, a rental car is the best way to get around Tenerife. Rent and petrol are cheap. The roads are good and сanarian drivers are friendly.
Read my useful article about renting a car in Tenerife. I shared a secret hot tip to get the best price in that article.
🚌 If you don't drive or don't want to rent a car, you can use the local buses.
Bus routes 477 and 473 pass through Los Gigantes and follow the coastal path.
The 473 bus continues to Los Cristianos to the main bus station in the south of Tenerife. From Los Cristianos you can get to La Laguna, Santa Cruz de Tenerife or El Medano.
The 477 bus will take you to Costa Adeje.
Other useful bus lines:
– 325 to Puerto de la Cruz
– 462 and 493 go to Guía de Isora.
Best places to visit in Tenerife in a day from Los Gigantes
If you're planning to drive around Tenerife, here are some great things to do:
🚗 From the North:
If you start your journey in Santa Cruz, you'll pass through incredible places like San Cristobal de la Laguna, La Orotava, Puerto de la Cruz, Icod de los Vinos, Garachico and Santiago del Teide.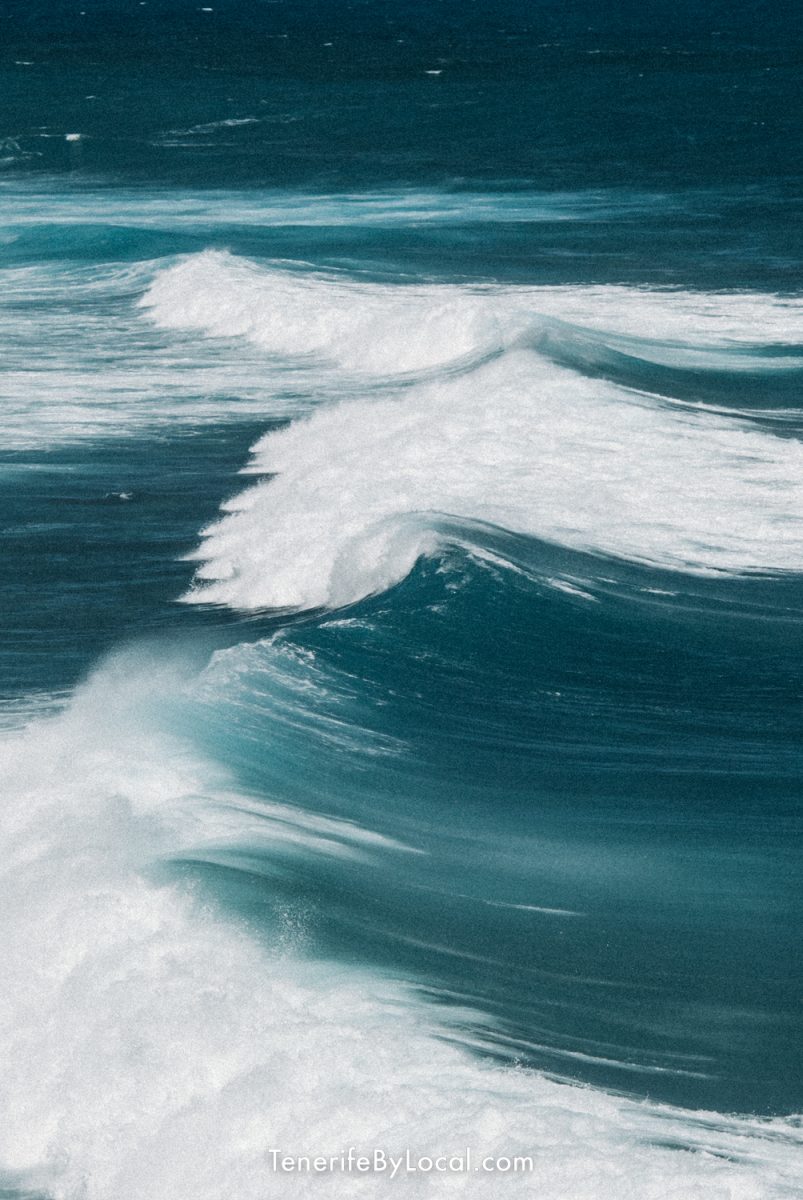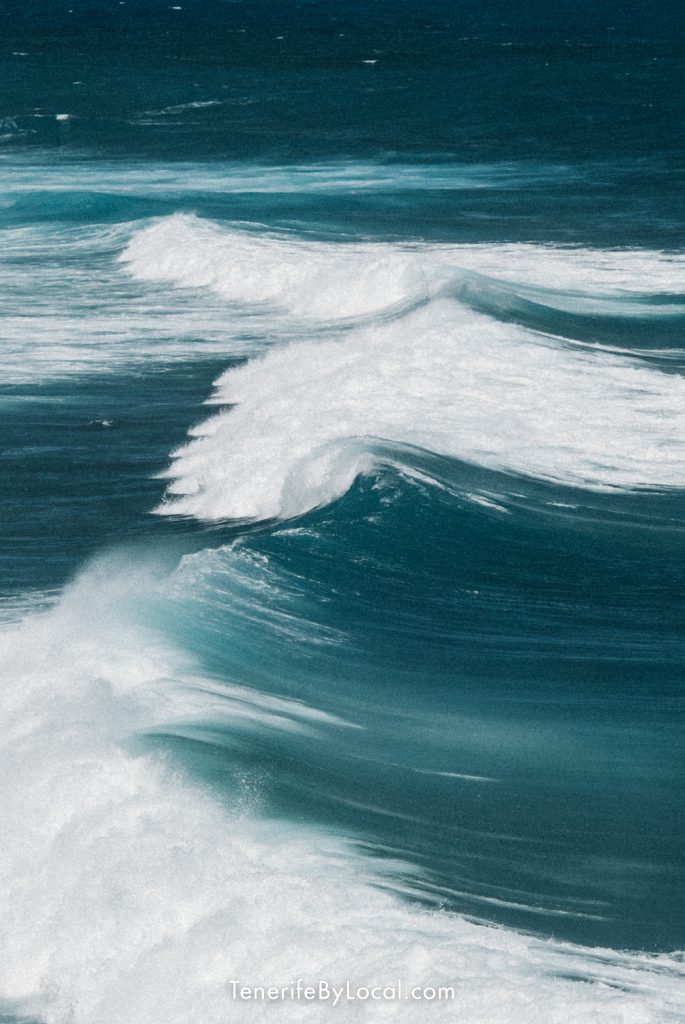 All of these places are full of history and culture. Don't miss on the stunning natural areas of Anaga, the Teno Rural Park and the village of Masca.
🏖️ From the south:
Here you will find tourist centres with the best beaches in Tenerife, such as Playa de las Americas, Los Cristianos or Costa Adeje.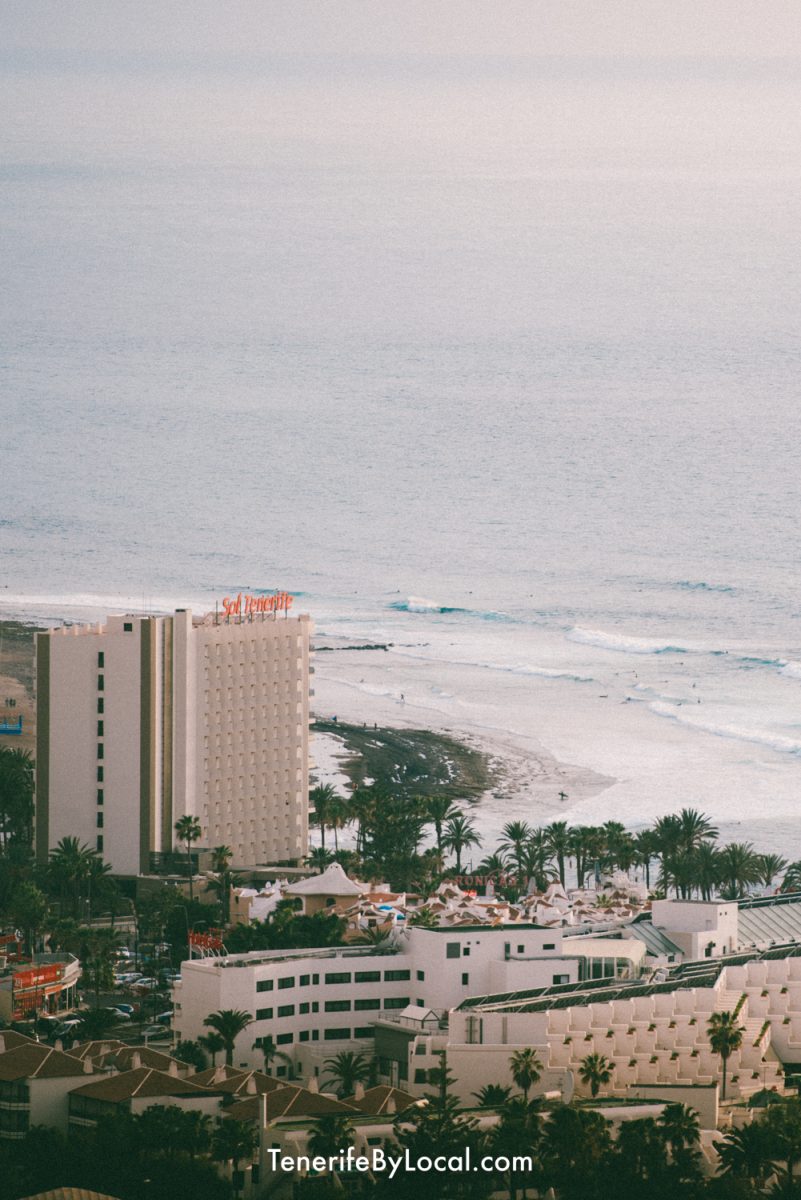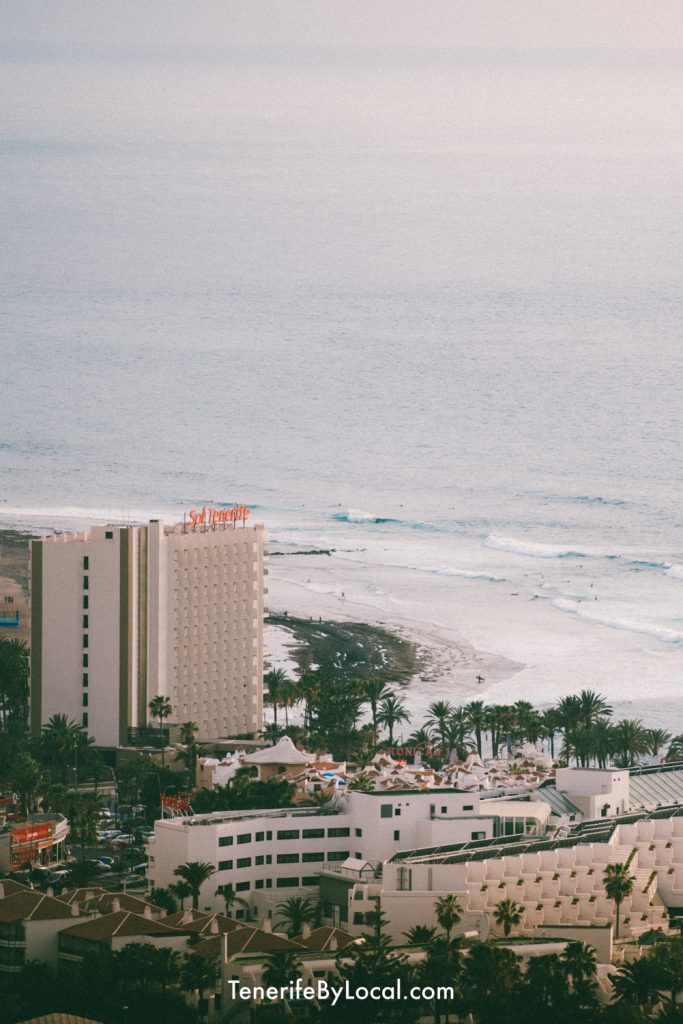 There are so many beautiful beaches to choose from: Las Vistas, El Camisón, El Duque, La Pinta, La Troya, Fañabé, Torviscas, La Jaquita and Punta Blanca.
What's the weather like in Los Gigantes?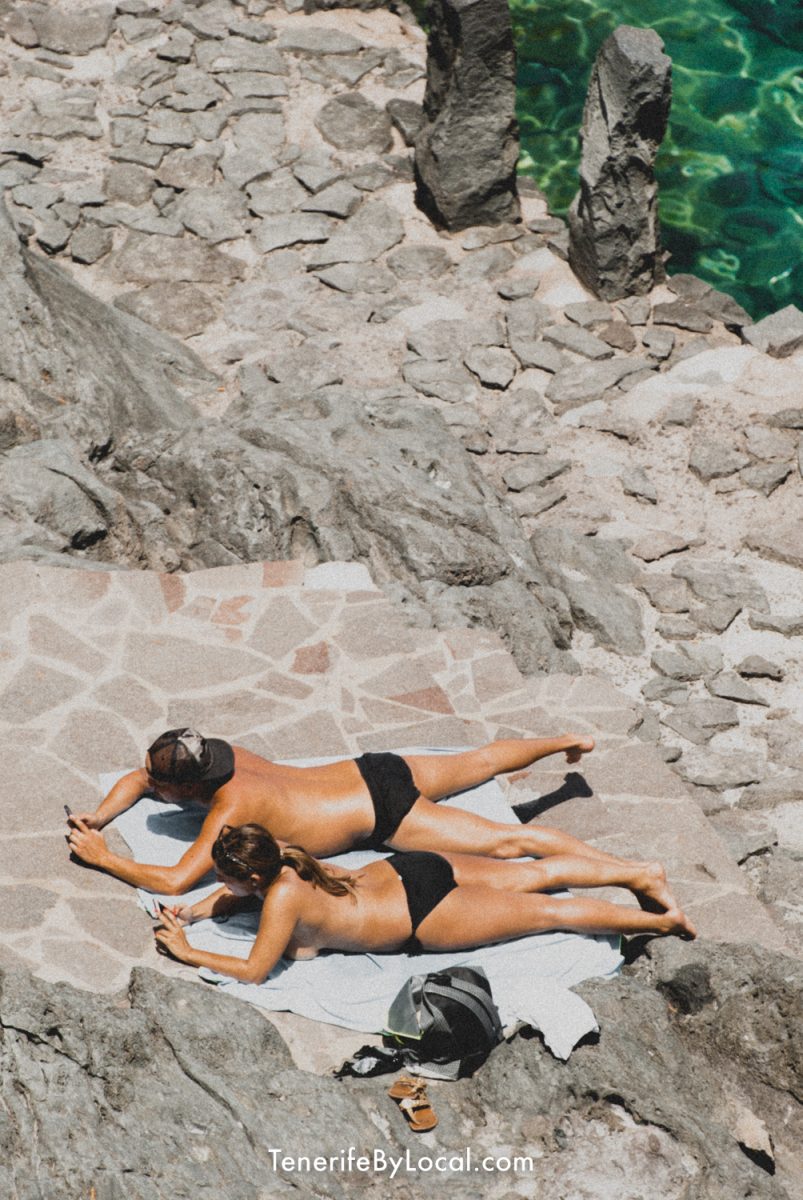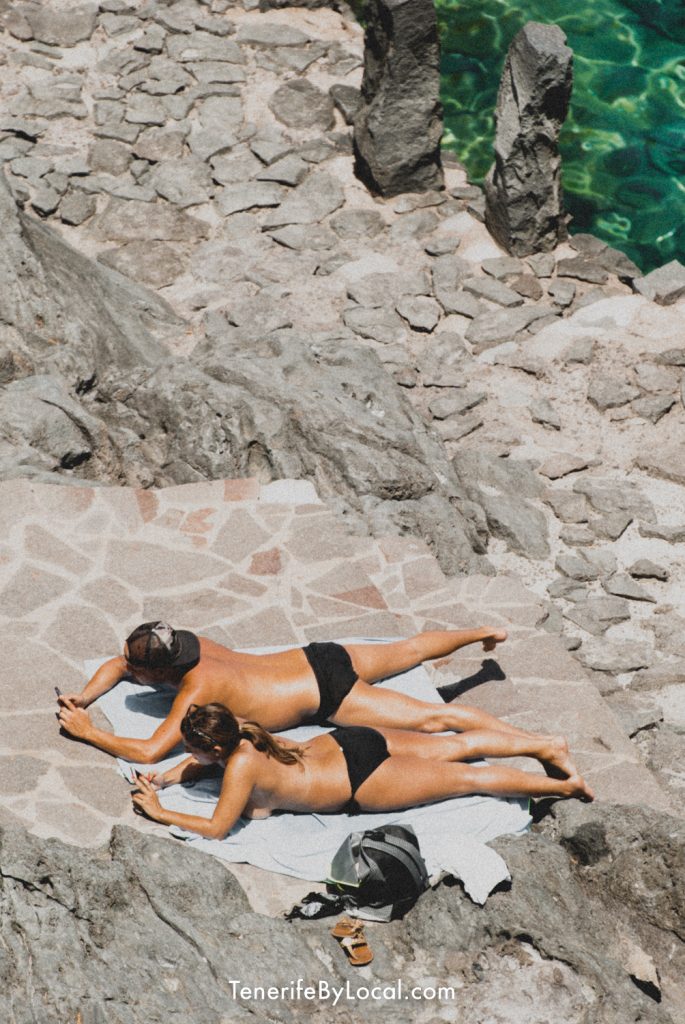 Los Gigantes has sunshine all year round. The weather is warm and dry. This is because its locaton on the western side of Tenerife, where it doesn't rain.
It can be windy, but the wind is quite rare.
Minimum temperatures are around 14-16°C (57-60°F), while maximum temperatures can reach 28-31°C (84-88°F). The hottest months are from mid-June to the end of September.
Conclusions. Are there enough things to do in Los Gigantes?
Los Gigantes is best known for its majestic cliffs. However, over the years it has evolved from a pit stop to a place where visitors spend their entire holiday in Tenerife.
Los Gigantes has a warm climate all year round. So this is the perfect destination to relax and enjoy the natural beauty of the Canary Islands.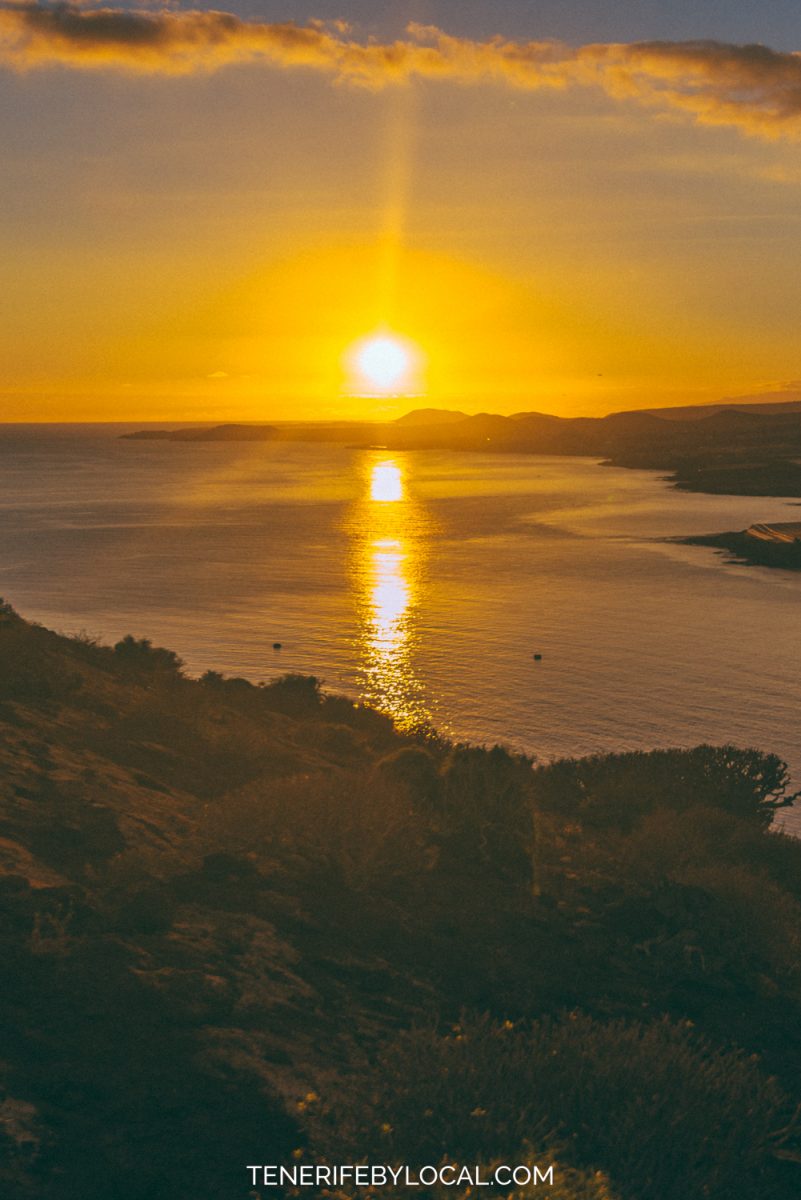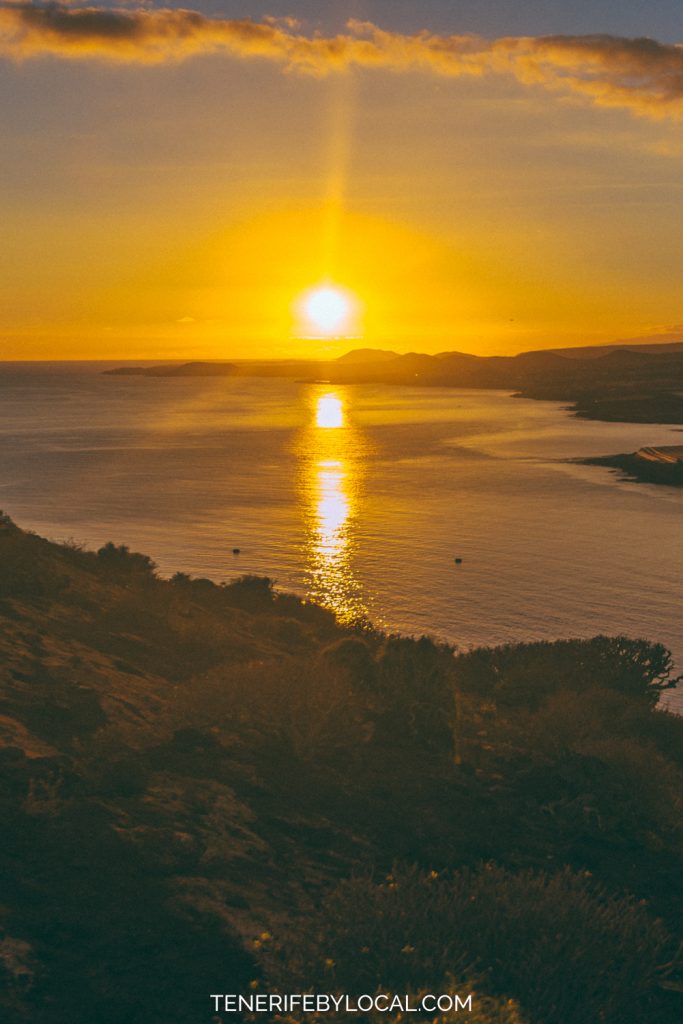 FAQ:
Where are the town Los Gigantes and Puerto Santiago?
Los Gigantes is located on the west coast of Tenerife, in the municipality of Santiago del Teide. It is easily accessible by car.
Puerto Santiago is only 40 kilometers from Tenerife South airport and about 100 kilometers from Santa Cruz de Tenerife.
How big are Los Gigantes cliffs?
This is a natural cliff formed by volcanic activity. Its height is over 600 meters above sea level. The cliff also extends 300 meters below sea level.
Why is it called The Giants?
Los Gigantes cliffs are named after their enormous height and appearance. The name was given to the Los Gigantes cliffs by Castilian settlers. And the indigenous Guanches called it the Devil's Wall.
Is Puerto de Santiago lively?
It's a great place to stay if you're looking for a relaxing holiday.
What area is Puerto de Santiago?
Puerto de Santiago is a small town on the west coast of Tenerife, in the Canary Islands. It's a beautiful region known for its huge cliffs, lava rocks and stunning black sand beaches.
What is the nearest airport to Puerto de Santiago de Tenerife?
The closest airport to Puerto de Santiago is Tenerife South Airport. Also known as Tenerife Sur Airport.
How long is the transfer from Tenerife Sur Airport to Puerto de Santiago?
The transfer time from Tenerife South Airport to Puerto de Santiago is usually between 30 – 45 minutes by car or taxi.
Is Puerto Santiago in the North or South of Tenerife?
Puerto Santiago is located in the south of Tenerife. Although it's on the west coast, the locals call it south because it's on the southern part of the main mountain range.
How far is Puerto de Santiago from the airport?
The center of Puerto de Santiago is approximately 42 kilometers from Tenerife South Airport.
How much does a taxi cost from Tenerife Airport to Puerto Santiago?
The average taxi fare is between 50 and 70 euros.